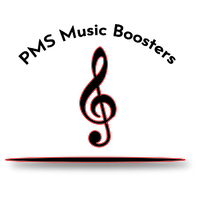 PMS Music Boosters has been established to help encourage, support, and grow the music education program at Pleasanton Middle School. Our heart is that all children would have access to enriching musical curriculum that will not only serve them educationally but also help to keep them interested and engaged in school. We appreciate your support!
PMS Music Boosters supports the music department throughout the year both financially and with volunteer hours. We coordinate fundraising events and strive to fund the many expenses involved in providing a creative, educational and motivational music environment for your kids. Some of the many expenses the music department incurs are: sheet music, instrument rental, instrument repair, instrument purchase, competition/festival fees and classroom expenses. For the 2020 - 2021 school year we will also assist with purchasing any necessary equipment or tools to facilitate a safe teaching environment for the teachers and students.
To support the music program we request a donation based on the number of ensembles your child participates in. We suggest a base donation of $100 and $50 for each additional ensemble. For example, if your child just participates in orchestra then the suggested donation would be $100. But if your child participates in choir and symphonic band and jazz band then the suggested donation would be $200. All donations are optional and we appreciate any contribution you can give.